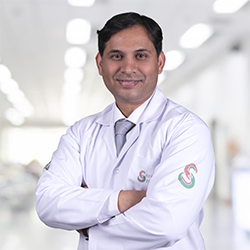 Dr. Prashanth R
Robotic Orthopaedic surgeon
Qualification
MBBS
DNB
MS
Fellowship in Germany
Special Interest in:
Joint Replacement
Complex Revision Replacement Surgeries (Hip/ Knee/ Elbow/ Shoulder)
Arthroscopy
Trauma Surgeries
Spinal Surgeries
Consultation
Monday to Saturday
Short Bio
Dr. Prashanth R is currently the Director of Specialist Hospital Kalyan Nagar, Bangalore, He is a Senior Consultant and Joint Replacement Surgeon with over 10 + years of extensive surgical experience and has operated about 10000 surgeries (over 5000 Joint Replacement surgeries).
Professional Experience: He graduated from JSS Medical college, Mysore. He further did his DNB in Orthopaedic Surgery from Manipal Hospitals, Bangalore. He is academically a very active person. He has also completed recognized fellowships in joint replacement surgery at Asklepios klinik, Germany
He has successfully performed more than 1000 major surgeries are Joint Replacement Surgeries, Complex Joint Trauma, Knee Arthroscopy, Spine Surgeries, and Custom fit Joint Replacement.
Achievements
His expertise is in Primary & Revision Joint Replacement Surgeries of Hip & Knee, Primary Shoulder & Elbow Replacements and Resurfacing Arthroplasty of Hip. His special interest is in primary total Knee Replacement with high performance bearing surfaces like ceramic on ceramic articulation and large diameter heads.
He is also the Only Doctor worldwide to operate all 4 Joints at the single sitting.
He Specializes in robotic orthopaedic surgeries and also the youngest in the country and 1st to perform Robotic assisted Joint replacement in the State of Karnataka, India
---