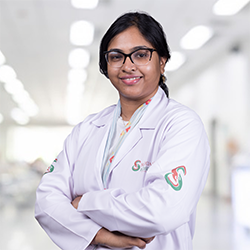 Dr. Divya Vincent D'Souza
Senior Registrar
Special Interest in:
Regional Blocks
Pediatric Anesthesia
General Anesthesia
Regional Anesthesia
Invasive lines
Pain Management
Consultation
Monday to Saturday
Short Bio
Dr Divya graduated in 2017 from Fr Mullers Medical College. She has completed her MD in Anesthesiology and is trained in critical care, pain management and anesthesiology. She is dedicated to patient care and comfort and believes in holistic patient care.
Book an Appointment